Be Worldclass - signature program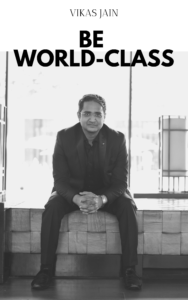 One of the best strategy to lead in today's marketplace is to be at the top i.e. to Be World-Class.
Business leaders & Individuals can fast-track their journey to becoming world-class using Vikas Growth Quadrant (as covered in my upcoming book Be Worldclass),
It also covers World-Class scoring system to measure our current score and position in Industry along with time tested strategies to move ahead.
Disruptive Tech & Innovation
Presentation: Industry specific Business Case Studies of future with AI & Innovation: Disruptive technologies like Artificial Intelligence is disrupting the way we do business. This presentation covers the Industry specific business case studies and upcoming innvoation with AI.
Workshop: Disruptive Tech for non-tech Managers (Workshop): Earlier computers were used by software and IT specialist but today everyone is using a laptop. Even more, MS-Office especially MS-Excel has become a essential skill for managers. In near future, using python on Jupyter notebook would become a common skill for emerging non-tech managers and leaders with it's ability to use power of data. Every participant using their laptop and accessing Google Colab using their g-mail account
Accelerated Development(Learning) of Emerging Leaders: Agile Learning has become even more important in today's dynamic marketplace. This program would cover the best practices and tools as adopted by world-class leaders to keep themselves updated despite busy schedule
Future Ready Leadership: A customized workshop covering essential skills to remain future ready. Some of the topics are Embracing Change, Adopting Digital Trasnformation, Leadreship team building, Develping agility, Disruptive innovation, Emotional mastery with Emotional Releasing Technique(ERT)
Business Success & Growth
Business & Sales Motivation: Even the strongest warrior sometime trapped in demotivation in the face the adversity. This program is to Ignite the Inner Motivation to achieve targets and goals. 
Embracing CHANGE: In today's world, embracing change is one of the mindset and core skill that is required by managers
T.I.M.E. Formula to achieve business growth & success: T.I.M.E i.e Technology, Innovation, Mindset & Expertise is playing very critical role in today's dynamic world. This program covers the tools and best practice for emerging business leaders and managers to levarage T.I.M.E.